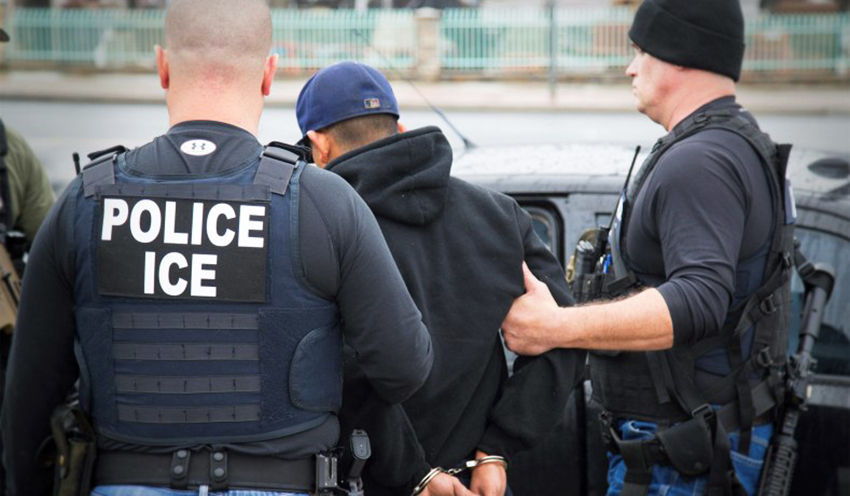 A few years after his family crossed the border from Mexico in 2004, he called the cops to report his father for beating his mom.  The police intervened, his dad got deported and Gabriel and his family eventually received U-visas, reserved for undocumented victims of crimes who cooperate with police.
Thanks to the U-visa, he was able to work, pay taxes and eventually get a green card. Outside his full-time job in sales and customer service at an online jewelry store, Gabriel is a volunteer firefighter and is taking classes to become an EMT. In a little over three years, he'll be eligible to apply for citizenship — if he doesn't get deported first
Gabriel says he was released that day without bond and when he showed up to court, the prosecutor decided not to pursue the case. He was relieved, but even though the case was cleared, his information had already been entered into ICE's system, and when he returned from visiting his family in Mexico in February, Gabriel discovered that the incident had repercussions. He says he was pulled aside while going through customs and told by an immigration agent that if he gets arrested again, he'll be deported.
Last summer, Gabriel found himself in another domestic violence situation when his wife became violent during an argument, punching him several times while he was driving with one of his nephews in the car. He says he pulled over and called the police, hoping they could help him defuse the situation. But when the cops arrived, Gabriel says his wife accused him of assaulting her and he was the one who wound up in handcuffs. Because he was arrested in Frederick County, Md., where sheriff's deputies have been engaged in a partnership with Immigration and Customs Enforcement to help enforce federal immigration law since 2008, Gabriel was asked about his immigration status upon being taken to the local jail/detention center.
Gabriel's story is just one example of the real-life ramifications of the 287(g) program, a long-standing and controversial federal program that trains and deputizes state and local police officers to enforce some aspects of federal immigration law. Participation in the program has varied over the years, but is being revived under the Trump administration. Gabriel had the misfortune to live in one of a small number of jurisdictions — a total of 78 in 20 states, double from a year ago — that are currently enrolled.
After undergoing four-week ICE training (followed by a required refresher every two years), deputized officers are generally authorized to question individuals about their immigration status, check DHS databases for such information, transfer non-citizens into ICE custody and launch deportation proceedings by issuing official Notices to Appear in immigration court. They are also able to enter personal data into the ICE database, recommend non-citizens for detention and immigration bond as well as voluntary departure and issue requests for immigration detainers to hold people until they can be taken into ICE custody.  "Why are we identifying foreign-born gang members?" the former ICE official asked, noting that plenty of foreign-born people may be citizens or otherwise legally authorized to be in the country."Being foreign-born doesn't really get to root of the underlying problems of immigration and customs enforcement," suggesting something like "foreign nationals," might be more appropriate. Instead, ICE's language seems to paint anyone who may have been born outside the U.S. as a person of interest.
"That's when you start getting into this idea of profiling, because you're looking for 'foreign-born' individuals," the former official said. Full Story
The war against illegal immigrants rages; for now, the target is illegal immigrants, but the target will change, and immigrants that refuse to assimilate will be viewed through the same lens.  The trend of "nationalism" is gaining momentum on a worldwide basis, especially in the west. Nationalism is dangerous for it allows the top players to manipulate the masses with ease under the guise of protecting the country.