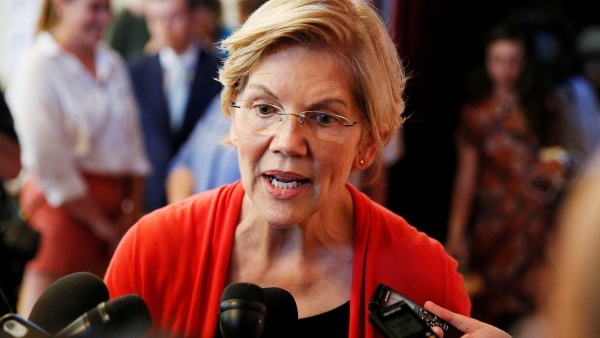 DES MOINES, Iowa (AP) — Presidential candidate Elizabeth Warren has announced the endorsement of one of Iowa's last two uncommitted Democratic elected officials, state Treasurer Michael Fitzgerald.
"She's the one I think can address the biggest problems we have, and that is the hollowing out of the middle class," Fitzgerald said in an interview with The Associated Press. "She's clear, you understand her message, and I want her fighting for me and all of us."
Fitzgerald was an early supporter of then-Sen. Barack Obama, who went on to win the presidency. Iowa Attorney General Tom Miller also supported Obama but is endorsing Montana Gov. Steve Bullock for 2020. Iowa's last remaining uncommitted statewide elected Democrat is Auditor Rob Sand.
Asked what stood out about Warren in a field of Democrats often aligned on key issues, Fitzgerald declared that Warren "is a Democrat, she is a capitalist, and she wants to make our system work." He said he'd do whatever the Warren campaign needed to help her win the caucuses.
Warren's organization is seen as one of the strongest in Iowa, but compared with the other top-tier contenders in the field Warren has been relatively slow to roll out endorsements in the state. After a trickle of endorsement announcements, her first major haul of supporters in Iowa came out just last week, after her strong performance in the primary debate in Houston.
Fitzgerald marks Warren's 25th Iowa endorsement and her sixth endorsement from an Iowa elected official. Full Story
Jimmy Carter says he couldn't have managed presidency at 80
ATLANTA (AP) — Weeks shy of his 95th birthday, former President Jimmy Carter said he doesn't believe he could have managed the most powerful office in the world at 80 years old.
Carter, who earlier this year became the longest-lived chief executive in American history, didn't tie his comments to any of his fellow Democrats running for president in 2020, but two leading candidates, Joe Biden and Bernie Sanders, would turn 80 during their terms if elected. Full Story
Sri Lankan doctors strike over salary 'injustice'
COLOMBO, Sri Lanka (AP) — Doctors at state-run hospitals across Sri Lanka began a 24-hour strike on Wednesday, demanding that the government resolve what they say is a salary "injustice."
Two years ago, the government gave an unusually high salary increase to legal officers in the government sector, creating what Dr. Haritha Aluthge, secretary of the Government Medical Officers Association, called "a severe injustice to doctors and other professionals." Full Story
Other articles of interest
Stock Market Crash Stories Experts Push Equate to Nonsense
Most Hated Stock Market Bull can't be stopped by weak economy
Permabear – A Special Kind Of A Stupid One
Technology Driven Deflation Will Kill The Inflation Monster
Nothing about 1987 stock market crash anniversary
Nickel Stocks Has Put In A long Term Bottom