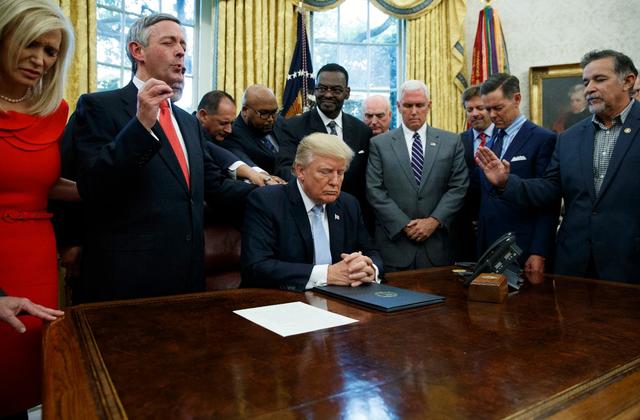 Religious right sticks by Trump as political heat rises: As the threat of impeachment looms, President Donald Trump is digging in and taking solace in the base that helped him get elected: conservative evangelical Christians who laud his commitment to enacting their agenda.
Prominent evangelicals who have proven Trump's most stalwart allies are staying in his corner for the impeachment fight, even as some push back against his withdrawal of U.S. troops from northern Syria — a move that imperils scores of Kurdish Muslims and Christians in the region.
Although Trump's Syria pullback is alarming conservative Christians whose support he needs to win reelection, their rallying against his impeachment indicates a bond that appears strong enough to withstand the current foreign policy rift as 2020 balloting nears. Full Story
NTSB: Firm tied to collapsed Miami bridge wasn't qualified
MIAMI (AP) — The firm that reviewed the design of a Miami university bridge that collapsed and killed six people last year was mistakenly listed in a Florida state report as qualified for that type of project even when it wasn't, federal documents show.
The National Transportation Safety Board released nearly 6,300 pages of reports Tuesday examining the role of each contractor in the construction of the pedestrian bridge at Florida International University that collapsed March 15, 2018 onto eight cars.
NTSB says the Florida Department of Transportation listed the company Louis Berger Group, Inc. on a website-generated report as prequalified to evaluate the construction of a complex concrete bridge. FDOT told investigators it was a "technical error" on its website, as the company was not actually allowed to review that project.
In emails between FDOT representatives and an NTSB investigator, the state's transportation department said firms involved in the project should not have simply relied on the website as proof of Louis Berger's credentials, and should have done their own due diligence, such as seeing an actual letter of qualification from the state. Full Story