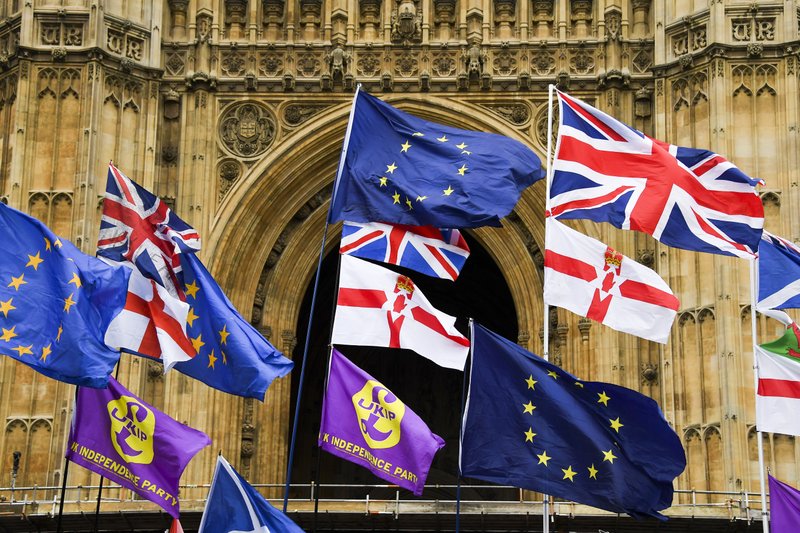 Boris Johnson: LONDON (AP) — British Prime Minister Boris Johnson was headed for a showdown Tuesday with lawmakers who want to put the brakes on his drive to push his European Union divorce bill through the House of Commons in just three days and take Britain out of the European Union by Oct. 31.
Johnson said that if Parliament imposes a longer timetable and "decides to delay everything until January or possibly longer," he will withdraw the bill and call a vote on holding a snap general election.
"I will in no way allow months more of this," said Johnson, who took power in July vowing that the U.K. will leave the EU on Oct. 31, come what may. His only hope of doing that is to pass the Brexit-implementing bill through Britain's fractious Parliament before then.
Johnson's announcement piles pressure on lawmakers as they consider whether to approve the government's legislation, which would finally take Britain out of the EU — more than three years after voters opted to leave the bloc.
The bill faces two votes Tuesday, with lawmakers first being asked to approve it in principle, followed by a vote on the government's schedule for debate and possible amendments.
Johnson said backing the bill would allow lawmakers to "turn the page and allow this Parliament and this country to begin to heal and unite." Full Story
Iraq: American troops leaving Syria cannot stay in Iraq
BAGHDAD (AP) — U.S. troops leaving Syria and heading to neighboring Iraq do not have permission to stay in the country, Iraq's military said Tuesday as American forces continued to pull out of northern Syria after Turkey's invasion of the border region. Full Story
Russia, Turkey leaders hold talks on fate of Syria border
ANKARA, Turkey (AP) — The presidents of Turkey and Russia met in the Black Sea resort town of Sochi on Tuesday, hours before a five-day cease-fire between Turkish troops and Kurdish fighters in northeastern Syria was set to expire. Full Story
Other Articles Of Interest
Stock Market Crash Stories Experts Push Equate to Nonsense
Most Hated Stock Market Bull can't be stopped by weak economy
Permabear – A Special Kind Of A Stupid One
Technology Driven Deflation Will Kill The Inflation Monster
Nothing about 1987 stock market crash anniversary
Nickel Stocks Has Put In A long Term Bottom
Originally posted 2019-10-22 14:19:05.