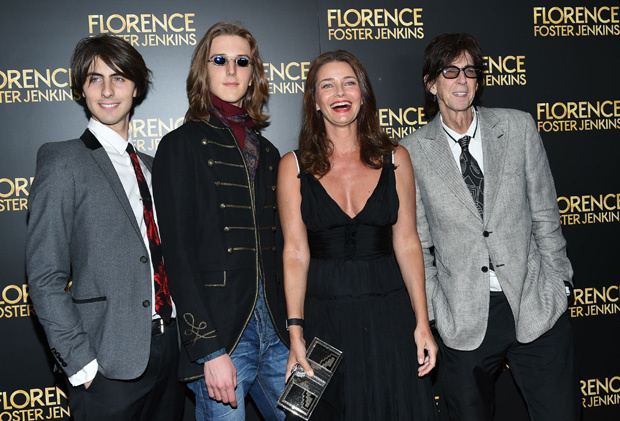 NEW YORK (AP) — Ric Ocasek, The Cars frontman whose deadpan vocal delivery and lanky, sunglassed look defined a rock era with chart-topping hits like "Just What I Needed," was discovered dead Sunday afternoon in his Manhattan apartment.
The New York Police Department said that officers found the 75-year-old Ocasek at about 4 p.m. after responding to a 911 call. They said there were no signs of foul play and that the medical examiner was to determine a cause of death.
The death comes a year after The Cars were inducted into the Rock & Roll Hall of Fame, followed by an announcement by model Paulina Porizkova on social media that she and Ocasek had separated after 28 years of marriage. The pair first met while filming the music video for "Drive," another Cars hit.
Ocasek, who sang, played guitar and wrote most of the band's songs, and Benjamin Orr, who played bass and also sang, were ex-hippie buddies who formed The Cars in Boston in 1976. They were a decade older than many of their modern-rock compatriots but became one of the most essential American bands of the late 1970s and 1980s with their fusion of new wave, 1960s pop and 1970s glam.
Ocasek's minimalist, half-spoken deadpan vocals set made the band's sound, and his long, lanky appearance formed their lasting image.
The first three songs on their 1978 self-titled first album were all hit singles and remain widely known classics and oldies radio airplay: "Good Times Roll," ″My Best Friend's Girl" and "Just What I Needed." Full Story
Trump says US locked and loaded in response to drone attack
WASHINGTON (AP) — Tensions are flaring in the Persian Gulf after President Donald Trump said the U.S. is "locked and loaded" to respond to a weekend drone assault on Saudi Arabia's energy infrastructure that his aides blamed on Iran.
The attack, which halved the kingdom's oil production and sent crude prices spiking , led Trump to authorize the release of U.S. strategic reserves should they be necessary to stabilize markets. Full Story
As shock wears off, mental health concerns grow in Bahamas
HIGH ROCK, Bahamas (AP) — One woman and her husband huddled on top of a bedroom dresser for two days, surrounded by floodwaters.
Another man sat in his wheelchair for nearly 48 hours in water up to his chest, alone in his home.
A third rescued a friend who sat in shock when part of a building where they sought shelter blew away.
Stories of survival are trickling out across northern Bahamas as the initial shock wears off from Hurricane Dorian, one of the strongest Atlantic hurricanes in history. Full Story
Other articles of interest
Stock Market Crash Stories Experts Push Equate to Nonsense
Most Hated Stock Market Bull can't be stopped by weak economy
Permabear – A Special Kind Of A Stupid One
Technology Driven Deflation Will Kill The Inflation Monster
Nothing about 1987 stock market crash anniversary
Nickel Stocks Has Put In A long Term Bottom