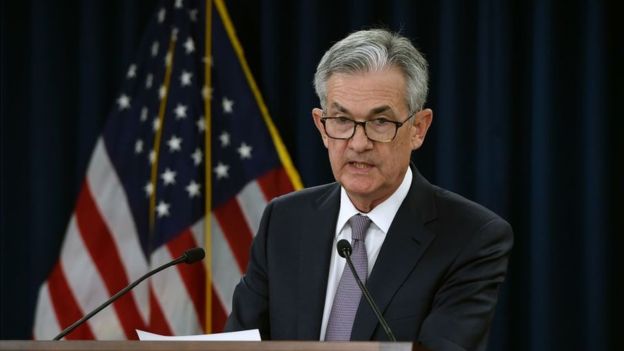 The US central bank has pumped more than $200bn (£160bn) into the banking system  this week – the first time there's been such an intervention since 2008.
The Federal Reserve's aim was to stabilise what is usually a calm part of the market.
Interest rates in the so-called "repo market" had shot up to 10% in some cases – although the cost of borrowing in that market more typically hovers around the benchmark rate set by the Fed – around 2%.
So what happened and should we worry?
First things first: what's the repo market?
Banks, hedge funds and other players borrow money regularly on a short-term basis to ensure their books are in order, no matter what their daily activities.
The borrowers typically offer government bonds or other high quality assets as collateral, which they repurchase, plus interest, when they repay the loan – often the next day.
Those repurchase agreements give the repo market its name.
What happened this week?
This is a huge market, with some $3tn changing hands each day, according to the US Office of Financial Research.
Under normal conditions, interest rates in the repo market are low, since the loans are considered safe and there's plenty of cash on hand.
But this week the cost of borrowing shot up – toward 10% in some cases. And the rate at which banks lend to each other – the Fed's benchmark – exceeded 2.25%, the top of its desired range. Full Story
Climate strike: What US children are sacrificing for the cause
Young people poured on to the streets of cities across the world on Friday, to try to force political leaders to act over climate change.
But they aren't just leaving it to the politicians – in New York City, activists explained what they were doing in their own lives to help. Full Story
Walmart ceases e-cigarette sales
Walmart has said it will no longer sell e-cigarettes in the US, amid mounting calls to ban the products entirely.
The retailer said its decision was due to "uncertainty" about the rules governing e-cigarettes, which US health authorities have linked to more than 500 cases of lung injury.
US President Donald Trump last week said the US would prohibit sales of all flavoured e-cigarettes. Full Story
Justin Trudeau: Canada PM seeks to put blackface scandal behind him
Canadian Prime Minister Justin Trudeau has sought to put the blackface scandal behind him with an announcement on gun control as he seeks re-election.
Flanked by cabinet ministers he said his party would ban military-style assault rifles if they win next month.
His campaign went into damage control on Wednesday night following the publication of a photo of Mr Trudeau wearing brownface at a costume gala. Full Story
Other articles of interest
Stock Market Crash Stories Experts Push Equate to Nonsense
Most Hated Stock Market Bull can't be stopped by weak economy
Permabear – A Special Kind Of A Stupid One
Technology Driven Deflation Will Kill The Inflation Monster
Nothing about 1987 stock market crash anniversary
Nickel Stocks Has Put In A long Term Bottom