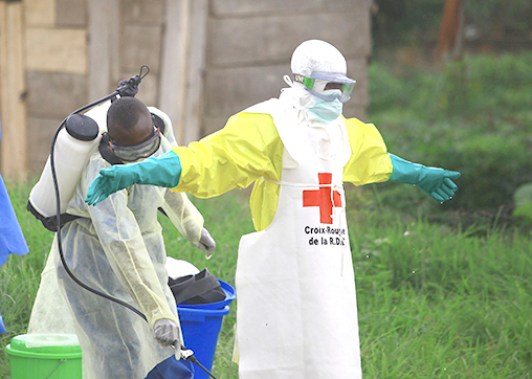 Ebola Congo: Efforts to halt an Ebola epidemic in the Democratic Republic of Congo have made "significant progress", with the virus now contained to a far smaller and mainly rural area, the World Health Organization (WHO) said Thursday.
"We have put the virus in the corner," Michael Ryan, the executive director of WHO's Health Emergencies Programme, told reporters in Geneva.
"I believe we have really squeezed the virus into a much smaller geographical area," he said.
Ebola is now essentially only transmitting within an area of eastern DRC between Mambasa, Komanda, Mandima and Beni, he said.
DRC's latest Ebola epidemic, which began in August 2018, has killed 2,144 people, making it the second deadliest outbreak of the virus, after the West Africa pandemic of 2014-2016.
At the height of the latest outbreak, 207 "health zones" were affected by Ebola, a figure that now stands at only 27, Ryan said.
But he stressed that despite a "much lower level of transmission", the danger was not over.
"The fact that it is a smaller space is positive, but … the disease has moved into more rural and more insecure areas," he warned.
Ebola fighters have been hindered by militia attacks in eastern DRC, as well as by resistance in communities to some of the methods used to rein in the virus.
'Kill the virus'
"Containing a virus is a different prospect than to eliminate that virus from human populations," Ryan said. Full Story
Ukraine president: 'No blackmail' in conversation with Trump
KYIV, Ukraine (AP) — Ukraine's president insisted Thursday that he faced "no blackmail" from President Donald Trump in their phone call that helped spark an impeachment inquiry, distancing himself from the U.S. political drama and trying to claw back his own credibility. Full Story
GM workers worry about paying bills as strike continues
TOLEDO, Ohio (AP) — Nearly four weeks into the United Auto Workers' strike against General Motors, employees are starting to feel the pinch of going without their regular paychecks.
They're scaling back at the grocery, giving up on eating at restaurants and some are taking on part-time jobs while trying to get by on weekly strike pay of $250. Full Story
Other articles of interest
Stock Market Crash Stories Experts Push Equate to Nonsense
Most Hated Stock Market Bull can't be stopped by weak economy
Permabear – A Special Kind Of A Stupid One
Technology Driven Deflation Will Kill The Inflation Monster
Nothing about 1987 stock market crash anniversary
Nickel Stocks Has Put In A long Term Bottom
Originally posted 2019-10-10 14:47:31.