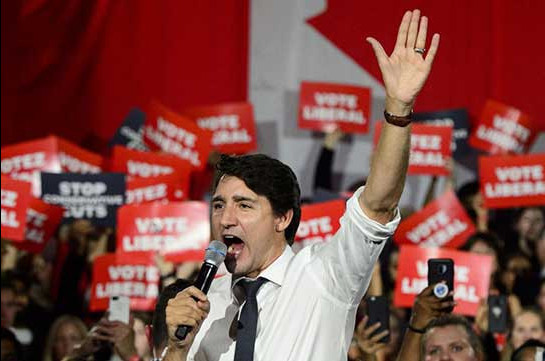 Trudeau news: Justin Trudeau's Liberal Party has retained power in a narrow Canadian election win but he will now be prime minister of a minority government.
The Liberals are projected to win 157 seats, 13 short of a majority, and will find it harder to pass legislation in Mr Trudeau's second term.
The opposition Conservatives are expected to win the popular vote but have not translated that into seats.
They are projected to take 121, up from the 95 they held before.
Although Monday night's results saw a sharp decline in seats for the country's left-leaning New Democratic Party (NDP), its leader, Jagmeet Singh, could become the kingmaker.
The NDP is projected to take 24 seats in the 338-seat parliament.
Quebec's separatist party, the Bloc Québécois, which competes only in that province, fared much better. It is expected to take 32 seats, compared to the 10 it won in 2015.
Turnout is currently listed at 66%.
The federal election was seen as a referendum on Mr Trudeau, who had a bumpy first term, tainted by scandal.
Mr Trudeau told cheering supporters in Montreal that voters had "rejected division and negativity… and they rejected cuts and austerity and voted in favour of a progressive agenda and strong action on climate change".
He said: "Thank you for having faith in us to move our country in the right direction."
And to those who did not back him, he promised his party would govern for everyone. Full Story
The Kenyan ghost writers doing 'lazy' Western students' work
University students in Europe and the US are paying Kenyans to do their academic work for them.
The global market for academic writing is estimated to be worth $1bn (£770m) annually.
For some, ghost-writing university essays for students who don't have the time or desire to do them can be lucrative, especially in countries with high unemployment among young graduates. Full Story
The race to build a flying electric taxi
For any commuter the prospect of being whisked to and from work in a fraction of the time it usually takes is pretty irresistible.
No traffic jams, no train delays and no cold platforms – what's not to love?
This is the promise of more than a hundred companies developing electric vertical take-off and landing (eVTOL) aircraft. Full Story
Other Articles Of Interest
Stock Market Crash Stories Experts Push Equate to Nonsense
Most Hated Stock Market Bull can't be stopped by weak economy
Permabear – A Special Kind Of A Stupid One
Technology Driven Deflation Will Kill The Inflation Monster
Nothing about 1987 stock market crash anniversary
Nickel Stocks Has Put In A long Term Bottom